It's 2020, and I've still got a lot of planning to do for what I want to do and accomplish this year. I've told myself before 2019 started that I would start making things happen. Lo and behold, of course, I did stuff but not noteworthy of being considered accomplishments towards a better me.
But it's 2020, and I'm getting the hang of actually setting realistic goals and accomplishing them. Here I am, freshly 29, and still struggling with those baby steps… but I've always said that I'm still moving forward and past all of the obstacles.
For starters, these are the journals that I will be using throughout the year.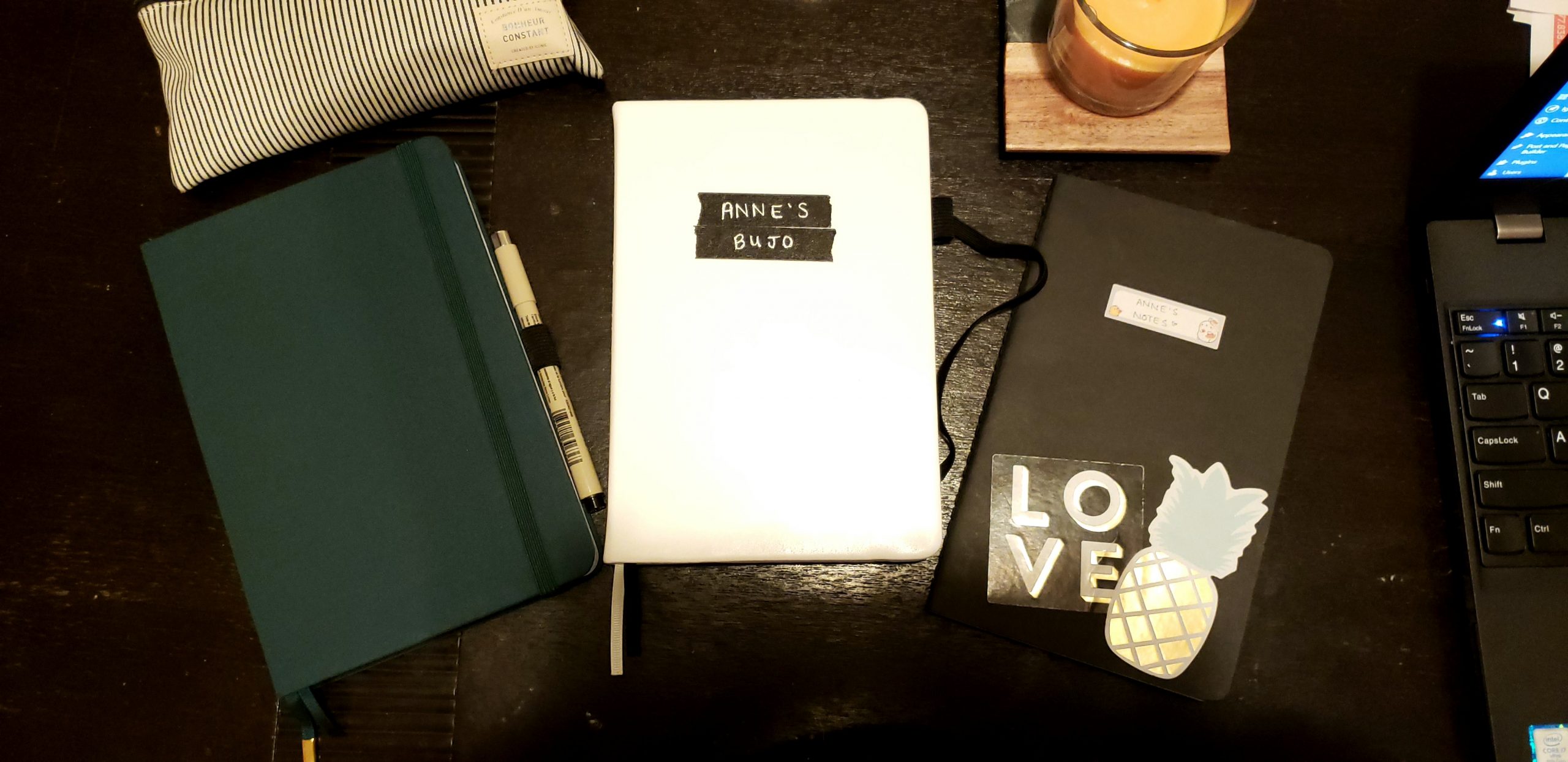 The dark green journal on the left is my planning journal, which lists the important tasks and events of the year, along with some spreads that will help with my planning.
The white journal in the middle is essentially like a diary, where I pour out my thoughts and recap my day if I feel it is worth documenting. I started with the idea of using this secondary journal as a way to unleash my unorganized thoughts since I wanted my planning journal to be clean and uncluttered. But in the midst of going through depression in October and November, I was in dire need of an immediate outlet that allowed me to unload all that was stressing me out or made me cry. And trust me when I say, it helped to unload on paper. So, I will be using the white journal for both my unorganized thoughts and as a diary.
Not too long ago, I remembered that I had some thin Moleskin notebooks that I originally bought to start my bujo journey a few years ago, but my heart and mind weren't fully in it yet. The black notebook with the "love" and pineapple stickers on the right has some attempted planning pages and "word art". But now, I'm going to use the rest of the pages for scratch notes, brainstorming, and doodles.
I would've posted a still of the page in my planning journal of my goals for 2020, but there are a lot of personal things on there that I do not want to share. However, I will share these:
Long Term
Travel the world
Make photography into a hobby (or profession) that pays
Achieve minimalism
Maintain healthy diet & weight
Short Term
Go to my first EDM concert: EDC in Las Vegas, May 2020
Stay in touch with my family (This originally said "parents", but I just had the thought of keeping in touch with the lot of the family I know using today's technology of Messenger, and maybe the occasional handwritten letter or card)
Clean out my emails – both personal and work
Do something creative every other day
I have way more short term goals. Some of them, as I was listing them here, I realized could be considered long term goals. Some of the short term goals I have are in relation to a long term goal, like "lose 10 more pounds" goes with "maintain healthy diet & weight".
Regarding the photography goal, I'm a step into achieving this goal and I'm happy to say that I have been approved to be a contributor to gettyimages and iStock. I have not yet submitted content, but I'm working on it. More general updates on this will ensue once I learn more about the Contributor Community.
To achieve minimalism is something that I've been trying to do all year last year, and it's slow progress. On a random day last year, I watched an episode of Tidying Up with Marie Kondo and I was fascinated by the thought of minimalism, mostly through her way of teaching: to keep things that "spark joy", and say good bye to what doesn't. After watching all of the episodes, I've become all about "sparking joy". Honestly, I just love that phrase so much. "Spark joy."
More recently, Brandon's roommate, Jesse, recommended a book to me with the similar concept of minimalism, called Goodbye, Things. Not long after the recommendation, I started reading a long excerpt of it on Google Shopping results, and I immediately wanted to read it. Of course, my want to order the physical book holds me back from the concept of minimalism when I could've purchased the e-book version. But oh well.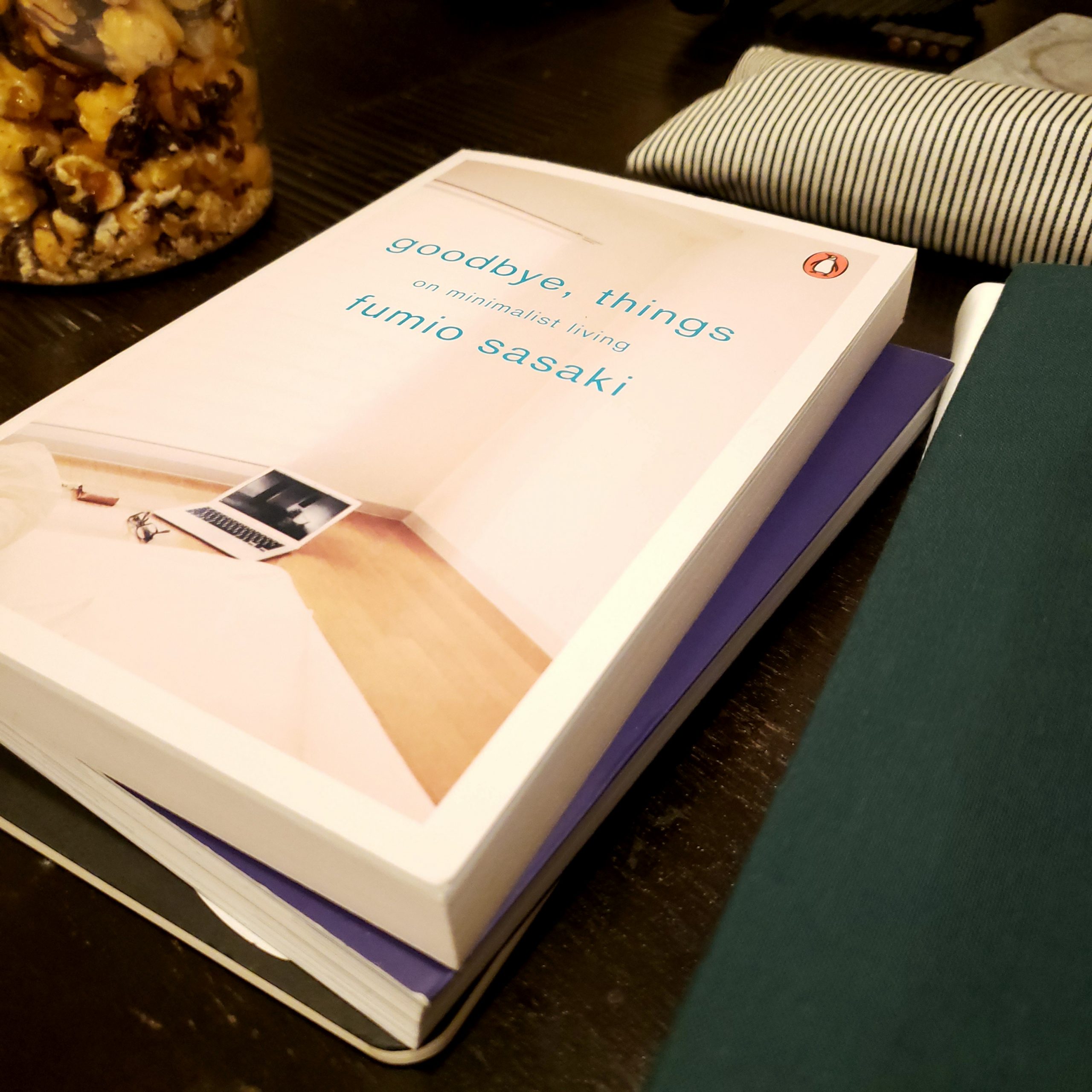 The last goal that I wanted to expand on is the one saying "do something creative every other day". This goal came to mind after New Year's Day, and I thought, "Hey! This could help me with not only having a side project to keep me busy outside of work, but it also gives me something to look forward to that's different from my normal routine." Using my creative juices in this way, I believe, also helps me get out of my comfort zone and break out of those creative blocks that I always have.
Recently, I had a longtime friend ask me if I could make a prayer card for her significant other's grandfather. It was a small job that I was glad to take on, and it took me picking up Photoshop again and relearning how to use it.
The next thing you know, a few days ago, another friend of mine a few states away asked if I could help her with a new intro video for her YouTube channel. This is a bigger job than the last, but it'll help me bring back my video editing skills. This one is currently in progress, and I'm unsure of the process it will take me to get through it, but I'm doing it. I'm kinda being a yes woman, if you think about it.
Lastly, for now, this is an ongoing "project"… and it's helping my cousin, who recently got engaged, plan for her wedding! I've never been so excited for weddings before, but now I am. There's a whole lot involved that I have no prior experience with, but I'm getting out of my comfort zone and learning something new with this. And I couldn't be more excited for my cousin, but also about the process of going through this in general.
For the future of this blog, I am thinking to post only 1-2 times a month. Maybe one post to give a monthly update on my life and another post specific on my recent photography journey. Who knows. I'm still planning that out too.
I feel like there's more that I'm leaving out, but I have to end it right here. Gotta put in some relaxation time, watch an episode of The Magicians and fit in some Stardew Valley before the night ends…